Certified Service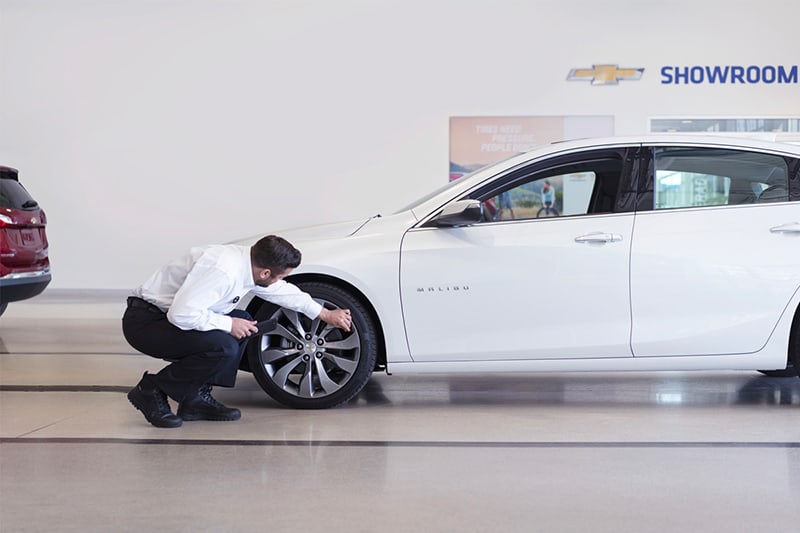 Service Offers and Pricing
You can count on our Rogersville Chevy service center for competitive prices on popular vehicle services such as oil changes, brake pad replacement, tire rotation, and more. Visit us near Morristown today!
Service Specials
There are no specials at this time. Please check back later.
Maintenance
Chevy Tire Service Near Morristown
Your vehicle's tires are its first and only contact with the road, so it is important to choose tires that are right for your vehicle size and type. At Rogersville Chevrolet, our certified Chevy service center is staffed by experts with the training to handle everything from tread inspection to tire rotation to tire replacement.
Find Tires
Need An Oil Change Near Rogersville?
Your vehicle may be trying to tell you something – Oil Life Monitoring Systems let you know when it's time to schedule your next oil change. If you have questions about the right type of oil for your vehicle, our Rogersville Chevy service center can help! Book your next visit with our online service scheduler today.
Learn More
Multi-Point Vehicle Inspection
During a multi-point inspection at our Chevy service center, seasoned technicians will make a thorough assessment of your vehicle's performance, interior, and exterior. This service is included with most of your vehicle's routine service visits, but can be scheduled at any time. You may even be able to save on your next inspection with our exclusive service offers!
The Multi-Point Vehicle Inspection form uses a simple color-coded key to assess maintenance terms:
Red: Indicates items that need immediate attention.
Yellow: Indicates items that should be addressed in the near future.
Green: Indicates no items to address.
Hearing Brake Noise?
Stopping power is crucial to safe and successful driving in Kingsport. Whether your car is due for routine brake service or worn brake pads are causing a squealing sound when you brake, visit the Chevy service center at Rogersville Chevrolet today. Our GM Certified Service experts will recommend quality new brakes or the appropriate brake repair.
Learn More
Battery Trouble?
Your vehicle's battery not only provides energy to start the engine but powers all accessories when the vehicle is off. The cold of winter and the heat of summer can accelerate battery wear, which may cause Chevrolet headlights or sluggish engine starts. Our Rogersville Chevy service center can help with all of your vehicle's battery needs!
Learn More
Contact Service
Service: (423) 207-3839
Parts: (423) 272-1000
5655 Highway 11 W, Rogersville, TN 37857